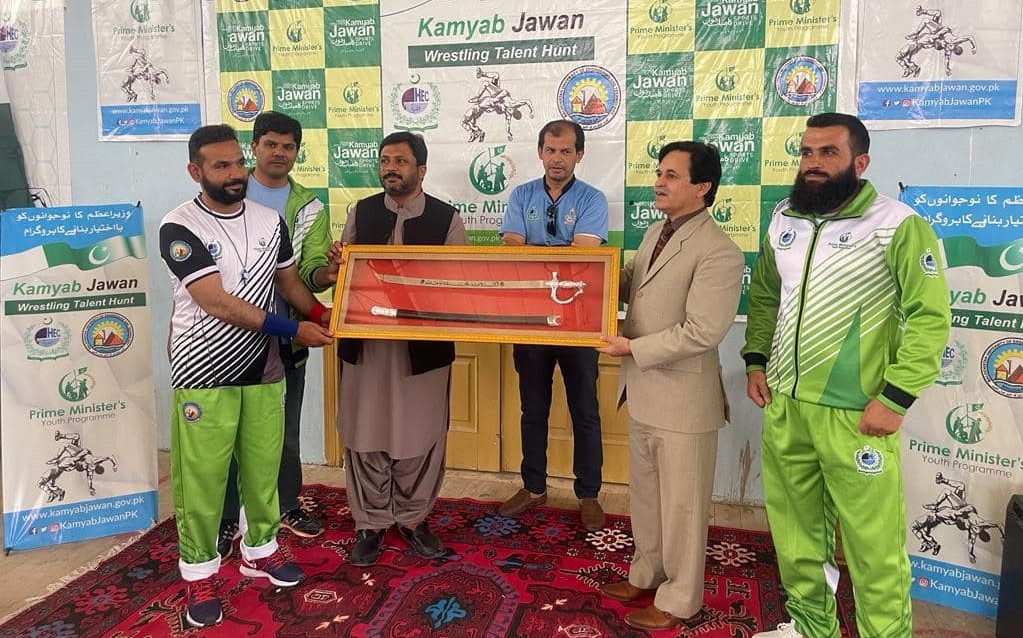 The Highlights of Provincial Wrestling Championship under the Prime Minister youth program talent hunt for Balochistan youth organized by Balochistan University of Engineering & Technology, Khuzdar in collaboration with the Higher Education Commission, Pakistan.
In 1st phase of Championship, the wrestling trials were started in March, 2022 at Uthal, Nasirabad, Quetta, Khuzdar and Loralai. The trails were completed after the selection of 60 wrestlers in different weight categories.
In the 2nd phase, two days training of selected wrestlers was started under the supervision of professional coaches and trainers at Provincial camp, Ayoub Stadium Quetta. After this camp, the Provincial competition was conducted between 60 players in different weight categories and 24 wrestlers are selected among the 60 in final competition to compete upcoming National level Wrestling Championship.
The Prime Minister Office in collaboration with Higher education Commission, Pakistan will organize this championship in current year.
The opening ceremony of provincial competition was conducted on 5th June, 2022 at Ayoub Stadium Quetta. The Vice Chancellor, Balochistan University of Engineering & Technology, Khuzdar-Dr. Ehsan Ullah Khan Kakar as Chief Guest graced the occasion.
Speaking on the occasion, Dr. Ehsan Ullah Khan Kakar welcomed all the wrestlers who participated in different weight categories. He also thanked the Prime Minister team for initiative of this great championship to hunt the talent of youth of Balochistan and supported to youth to show their abilities in this platform. He acknowledged the role of Mr. Javed Ali Memon, Director General, Sports, HEC to select the name of BUET for conducting this championship in Balochsitan and support us in the whole event. He hoped that the selected players would make a famous name of Balochistan in the upcoming National level championship.
Mr.Imran Yousaf, Director, Pakistan Sports Board, Quetta accompanied by all Director Sports of public sector Universities of Balochistan attended the event of opening ceremony.
In opening ceremony, Dr. Ehsan Ullah Khan Kakar distributed the tracksuit, kitbags, joggers and other sport accessories among the players.
On 9th June, 2022, the final competition of wrestling championship was held in Ayoub Stadium, Quetta among the wrestlers for selection of upcoming National wrestling Championship. Mr. Mansoor Ahmed Khan, Manager Nawab Akbar Bugti Cricket Ground Ayoub Stadium, Quetta was the chief guest of the event.
Mr. Ahsan Hashmi Deputy Director, HEC , Quetta, Haji Muhammad Sadiq Khilji, General Secretary, junior Mini Olympic Games, Balochistan,Haji Baaz Muhammad Khan Norozai, tribal leader, Jhangir Khan Kakar, Director, sports islamia Boys CollegeQuetta, Agha Muhammad Mengal, General Secretary, Balochistan Mixed martial arts, Agha Muhammad Norozai, General Secretary, Thai kick boxing federation Balochistan, Sradarzada Zakir Muhammad Shahi, General Secretary, Wushu game/ Pencak silat, Ms, Zulikha, Principal Physical Education College, Quetta,Mr. Masood Kasi, Director Sports, BUITEMS, Ms. Sadaf Deputy Director,Sports SBK, Mr. Jamshaid Essa, Director Sports, NUML , Islamabad. Mr. Junaid khan, Sports Officer LUWAMS, Riaz Ul Haq, Director Sports, Al Hamd University Quetta. Engr. Waqar Hazoor, Director Sports, BUET, Khuzdar, Jhangir Khan Khajak and Mr. Zahoor Ahmed Babai, Professor Physical Education, Commerce College, Quetta also attended the Final selection competition.
In end, Engr. Waqar Hazoor, Director Sports, BUET presented the souvenirs and shields to the Chief Guest and Guest of Honors. The Chief Guest distributed Gold/Silver/Bronze Medals among the selected players.